Media Release 23-35 County Wide Fire Ban in effect May 17, 2023
For Immediate Release
Minden, Ontario
Wednesday May 17, 2023
7:00 AM
Release # 23-35
SUBJECT: County Wide Fire Ban in effect May 17, 2023
The Fire Chiefs of Haliburton County have issued a County Wide Fire Ban which will encompass the entire geographic area of Haliburton County (Municipality of Dysart et al, Township of Minden Hills, Township of Algonquin Highlands and Township of Highlands East). Effective immediately Haliburton County is under a total fire ban. Dry conditions, high heat, and the lack of forecasted precipitation has led to an extreme fire risk.
All Fire and Fireworks Permits are suspended until further notice, all open fires and campfires are prohibited during the fire ban.
Only propane BBQ's are permitted for food preparation purposes, and shall be extinguished immediately after use.
If you have questions or concerns, please contact your local municipal Fire Chief.
Any persons setting an outdoor fire shall be responsible for any damage to property or injury to persons and be liable for all costs incurred by the Fire Department, and or MNRF. Contravention of these restrictions will result in fines.
For more information, please visit www.mindenhills.ca for accurate updates. The Minden Hills Fire Department will continue to monitor the fire hazard and post updates as required. Information on fire intensity codes and wildfires can be found at www.ontario.ca.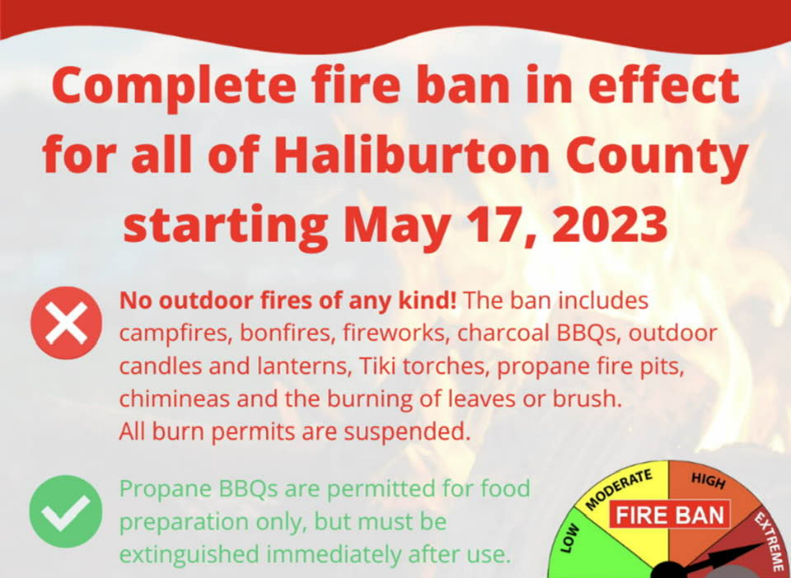 -END-
Contact Information:
Shain Duda, Fire Chief
Township of Minden Hills
PO Box 359, 7 Milne Street
Minden, ON K0M 2K0