Media Release 23-70 Notice of Twin Culvert Replacement Brady Lake Road
For Immediate Release
Minden, Ontario
September 15, 2023
2:15 PM
Release #23-70
Subject: Notice of Twin Culvert Replacement: Brady Lake Road
The Township of Minden Hills is advising residents of an upcoming twin culvert replacement on Brady Lake Road.
Brady Lake Road will be reduced to one lane approximately 60m South of One Mile Drive.
Work is expected to begin the week of September 18 and is expected to be ongoing for three weeks.
Brady Lake will remain open to through-traffic; however residents should plan for extra travel time and watch for construction signage and slow-moving vehicles.
Please see map below for construction location.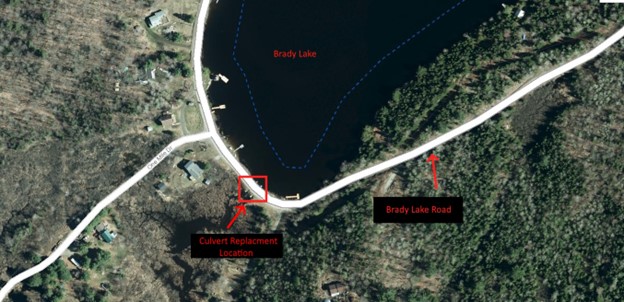 -END-
Contact Information:
Mike Timmins, Director of Public Works
Township of Minden Hills
(705) 286-1260 Ext. 570