Fire and Emergency Services
Fire Status is set at MODERATE
Burning during the day is allowed with a burn permit only.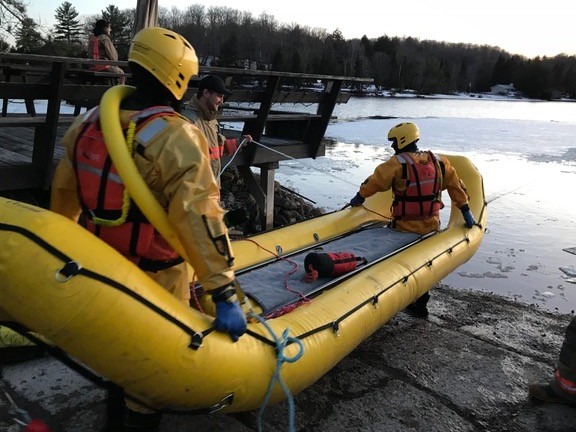 In case of an emergency call 9-1-1.
The Minden Hills Fire Department is a Volunteer based services that provides emergency response calls for firefighting, medical assistance, rescues, vehicle extrication, ice rescue, open water rescues, and backcountry rescues.
The department serves an area about 878 km2 (339 square miles) and responds to approximately 300 calls per year.
The department is staffed by a Fire Chief, Deputy Fire Chief, shared Clerical Assistant and 24 Volunteer Firefighters.
Our Station
The Minden Hills Fire Station is located at 12418 Highway 35, Minden Hills, ON, K0M 2K0
Our Equipment Fleet
Command 3
2020 Dodge Ram 1500
Used as a command vehicle, for first response, towing trailers and shuttling personnel, tools, equipment and medical equipment
Rescue 5
2014 Ford F550 4x4 light rescue by Pierce
Carries equipment for rescue, vehicle extrication, medical and wildfire firefighting, along with 2 portable pumps, quick attack kits and a 12,000 lb winch
Mini Pumper 7
2021 Ford F550 4x4 mini-pumper by Pierce
Carries vehicle extrication tools and medical equipment and:

5,000 L/m (1250 gpm) pump and holds 750 liters (208 gallons) of on-board water
20 liter (5 gallon) on-board foam tank
Engine 8
2011 Pierce
Carries vehicle extrication tools and:
4000 L/m (1050 gpm) pump
3200 liters (850 gallons) of on-board water
100 Liter (25 gallon) on-board foam tank
2000 liter (500 gallon) portable drafting tank
Tanker 9
2009 E-One Water Tender
Carries:

2,000 L/m (500 gpm) pump (PTO driven pump)
7600 liters (2000 gallons) of on-board water
2,000 L/m (500 gpm) portable pump
8000 liter (2500 gallon) portable drafting tank
Truck 6
2014 Ford F150 4x4
Used as a Command Vehicle, Public Education, Training, Fire Code Inspections, First response vehicle, towing the trailer and shuttling personnel, tools and equipment, medical equipment
ATV with Rescue Trailer
2015 CAN AM ATV with tracks and rescue patient trailer
Used for transporting patients from back country and out-of-the-way areas to medical treatment or transportation
Boat
2003 Jon Boat & Motor, with 4 passenger capabilities
Used for water and ice rescues and for water access for medical and fire emergencies
Incident Command Trailer
2015 Triton Trailer 16 ft
Carries and stores equipment for ice rescue, gear, firefighter rehabilitation supplies, portable heaters, tools, benches, tables, medical and blankets