2023 Budget
2023 Breakdown of the Township's Operational Spending
Building, By-law and Planning – 6.6%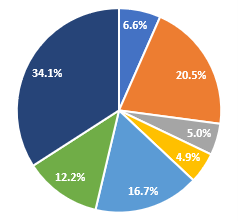 Building and By-law – 3.7%
Planning – 2.9%
Parks and Recreation – 15.6%
Halls and Property – 1.6%
Cultural Services – 2.1%
Cemeteries – 1.2%
Council – 1.5%
Committee of Adjustment – 0.3%
Office of the CAO/Clerk – 6.9%
Finance – 8.1%
Roads – 22.5%
Waste Facilities – 11.6%
Community Services – 20.5%
Contribution to Capital Projects – 5.0%
Fire – 4.9%
Governance and Corporate Administration – 16.7%
Police – 12.2%
Public Works – 34.1%
2023 Capital Budget Highlights
Highlights of the 2023 capital budget of $6.7 million include:
Restoring the Minden Boardwalk and Village Green Walkway at a cost of $180,000 and $100,000, respectively.
Investing $423,000 into the Minden Hills Fire Department for the purchase of new self-contained breathing apparatuses and auto extrication equipment.
A continued commitment to the annual road resurfacing and rehabilitation program at a cost of $1.4 million, including the resurfacing of 3.0 km sections of Blairhampton Road and Davis Lake Road.
The full reconstruction of 3.2 km of Bobcaygeon Road and 2.7 km Scotch Line Road, including road re-alignment, ditching and culverts, at a cost of $3.5 million.
For every $1.00 of property taxes levied in 2023:
$0.51 is kept by the Township to provide local programs and services
$0.29 is sent to the County of Haliburton
$0.20 is sent to the local school boards
Budget Archives
Archived budget informaton will be a made available as we transition fully into the new website. Please contact the Finance Department for questions about archived budget information.
2022
2021
Information and detailed reports for each draft of the 2021 Budget are available on the Township's Civic Web portal.
2020
content coming soon
2019
content coming soon
2018
content coming soon