To report a bear problem, call the MNRF's toll-free Bear Wise reporting line at 1-866-514-2327 (TTY 705-945-7641). The Bear Reporting Line is in operation from April to November of each year. In an immediate emergency, call 9-1-1.
The Province of Ontario has an excellent resource about being Bear Wise and what to do if you see or encounter a bear on your property.
You are in Bear Country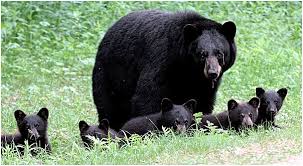 Minden Hills is bear country and bears love garbage. With careful management of your waste, you can reduce the chance of attracting bears to your property: Do not stockpile garbage. Take it to the landfill frequently. Keep meat scraps and cooked food waste in the freezer until you are ready to take it to the landfill. Store garbage in a bear-resistant container, secure shed or garage. Never put meat, bones, fish or dairy products in a compost bin.
For more information on what you can do to reduce the chance of attracting bears to your cottage, visit the Ministry of Northern Development, Mines, Natural Resources and Forestry Bear Wise Website.