No Daytime Burning Allowed
Burn permits are required to burn during the day from April 1 to October 31. Burning is allowed from 7:00 PM to 7:00 AM unless restrictions are in place.
Floods are the costliest natural hazard in terms of property damage in Ontario. Floods are typically caused by melting snow, ice jams, high lake levels, and heavy rains and thunderstorms. They can happen at any time of year and in urban and rural areas. Flash flooding can occur in rain storms or when a storm drain is plugged – often with little or no warning.
Springtime is typically the time of year when periods of precipitation historically occur. Property owners are reminded to be aware of and monitor their situation, as each can vary depending on: distance from watershed(s), distance from an unaffected accessible road, height of land, property saturation levels, the availability, number, size and type of sump pump, etc.
Be Prepared
Be prepared for an emergency by creating a 72-hour Emergency Preparedness Plan and Kit for you and your family. Other ways to be prepared may include:
Keep an Emergency Contacts list near your phone.
Check Your Sump Pumps: Ensure the sump pit is clear of debris, that all electrical connections are plugged in correctly and that circuit breakers are operational. Check your maintenance manual for instructions on how to check the float, test the check valve and clean the impeller.
Hydro: If you are concerned about water in or around your residence, or other buildings, call the Hydro Call Centre at 1-888-664-9376. Disconnected services may impact water removal equipment (i.e. sump pumps); therefore, it may also be necessary to contact your insurance company.
Keep all items up and off the floor where potential flooding could occur.
Stay Informed: Subscribe to our Newsfeed, check the local newspapers and/or tune into the local radio stations. (Canoe FM at 100.9 or Moose FM at 93.5)
Inside your home
store any personal belongings in sealed bins
move documents and keepsakes out of the basement
test sump pumps regularly and install a back-up system (for example, battery back-up or generator)
put weather protection sealant around basement windows and ground-level doors
install check valves in sewer traps to prevent floodwater from backing up into the drains of your home
Outside your home
extend downspouts at least 2 metres from your home to move water away from the building
remove debris that could present danger during flood events
secure outdoor furniture and items around piers, docks or boathouses
regularly maintain water drainage systems, such as weeping tile, culverts and ditches
Safety Tips
If you are instructed by emergency officials to evacuate, do so immediately. If an evacuation is not in place, consider these safety precautions:
avoid travelling on roads that are near any bodies of water
don't drive through, stand or walk in any moving water
if you must walk, look for still water and use a stick to check the ground in front of you
keep children and pets away from floodwater
avoid using the plumbing system if the septic tank or the disposal field is under water
If you are at home
ensure necessary personal items (medications, and important documents) are secured and easily accessible in case of evacuation
Get your kit and go bag ready,
disconnect electrical appliances — don't touch electrical equipment if wet or standing in water
don't eat food that's come in contact with flood waters
ensure your cellphone is charged (safely) – it may be your only means of communication during an evacuation
Have a plan for your pets
If you are not at home
If your property is impacted by flooding:

and your electricity is on, leave the area immediately
follow your emergency plan and move to a safe place on higher ground

avoid travelling on roads that are near water, bridges, ravines, embankments, low lying areas and any bodies of water
don't drive through, stand or walk in any moving water
if you must walk, look for where the water is not moving and use a stick to check the ground in front of you
account for all of your family members, keeping children and pets away from floodwaters
Sandbagging and Dike Construction
In the event of high water levels, with the potential for flooding, sand and sandbags mat be provided.
After a Flood
Before returning to your home, check with us for any information from local public health units, utilities and other community officials who are working to keep you and your family safe.
Don't use flooded appliances, electrical outlets, switch boxes or fuse breaker panels until they have been checked by your local authority.
Follow instructions from your local public health unit when it comes to water in and around your home, which could be heavily contaminated.
Don't eat food that's come in contact with flood waters.
Contact the municipality about debris management programs.
Report any broken utility lines to the appropriate authorities.
If your property has been damaged:

you may need special permits to rebuild or restore your property
you may be eligible for provincial assistance.
Private Wells and Septic Systems
If you have a private well, contact the Haliburton Kawartha Pine Ridge District Health Unit for information on the safe use and consumption of well water. The Health Unit can also assist with water testing bottles, pick-up and drop-off locations. Call 1-866-888-4577 or visit www.hkpr.on.ca.
Residents with private septic systems affected by flooding can contact the Building Department.
Water Distribution System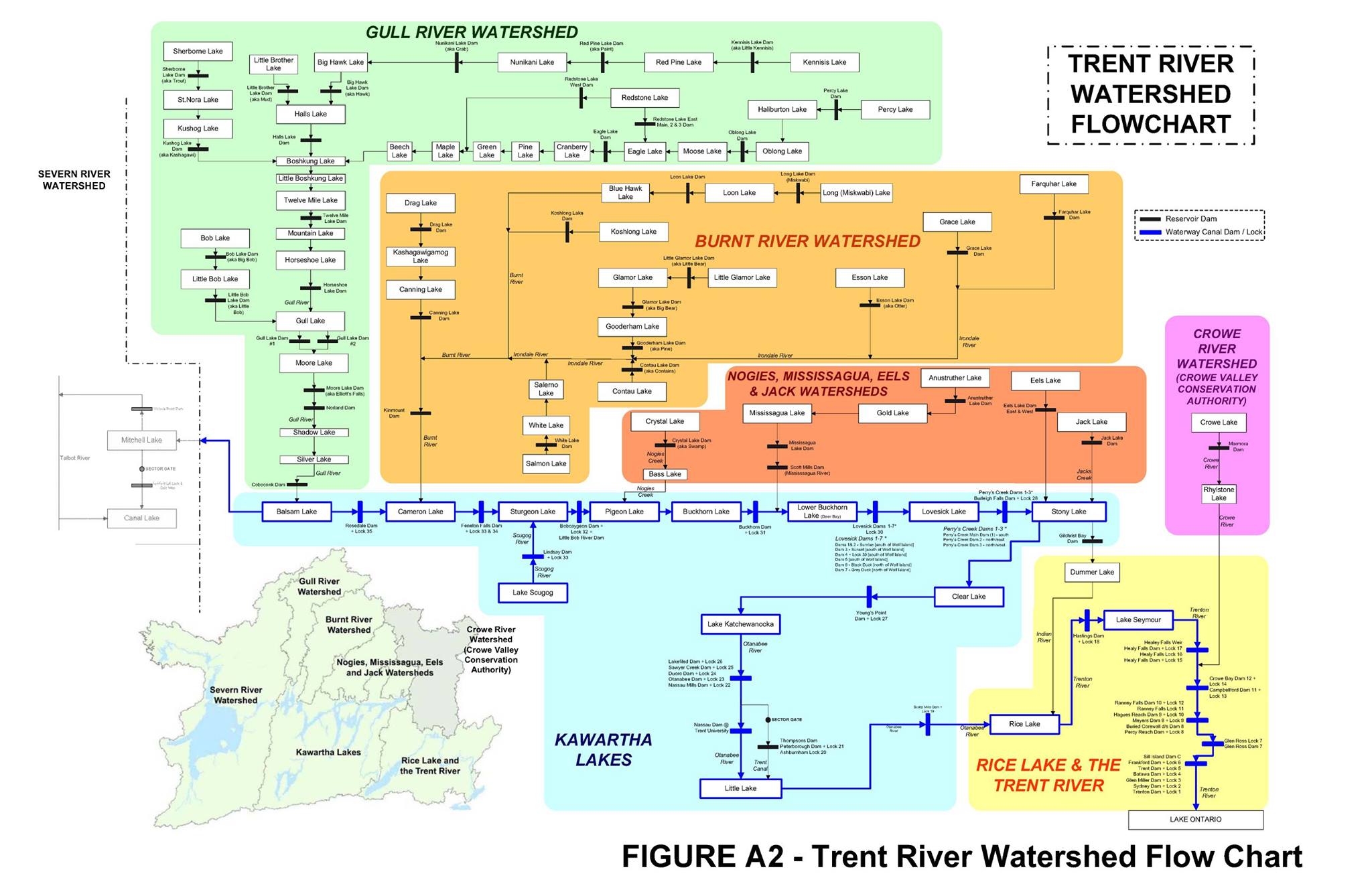 Trent Severn Waterway Flow Chart
The Trent Severn Waterway monitors and controls the water flow through local watersheds, along with the Ministry of Natural Resources. The Township of Minden Hills is part of the Gull and Burnt River Watershed systems, shown in green and orange in the diagram.